Olena Zelenska discussed safe return of children to school with the Murat Sahin
Olena Zelenska discussed safe return of children to school with the UNICEF Representative in Ukraine Murat Sahin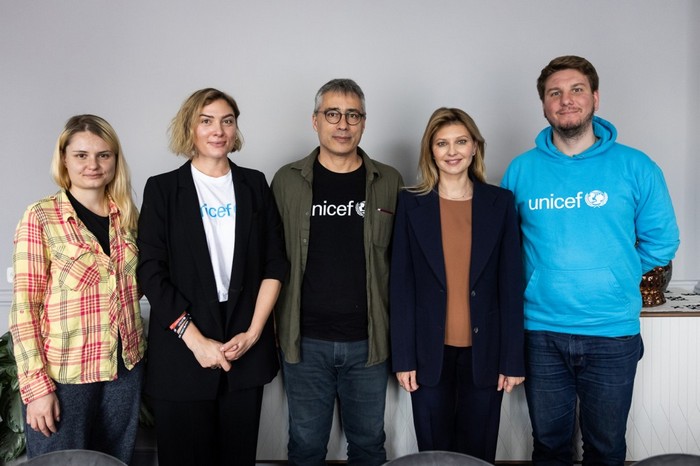 First Lady Olena Zelenska met with UNICEF Representative in Ukraine Murat Sahin. In particular, The parties discussed the opening of 50 "Together" centers in Ukrainian cities. These are UNICEF-initiated hubs for families with children - IDPs, where you can get medical, psychological and information assistance.
The President's wife also spoke about humanitarian projects she takes care of during the war. Among other things, it is the evacuation of children with cancer and children from orphanages abroad, humanitarian aid to orphanages in Ukraine and residents of cities where hostilities are taking place, the launch of a program of psychological assistance to Ukrainian citizens, implemented with WHO support.
"After World War I, there was a whole lost generation. It is important for us not to lose any generation of Ukrainians. In World War II there was the term "children of war". We must help children so that they do not associate themselves with the war all their lives, so that they can happily outgrow it and grow up with a peaceful worldview," said the First Lady about the purpose of the psychological rehabilitation program.
In addition, Olena Zelenska informed about a new humanitarian project - helping people who have lost limbs.
"The war has given our doctors a completely unusual task: hospitals receive adults and children who lose their limbs due to gunshot wounds, mines and explosions every day. They all need prosthetics and very long rehabilitation, and Ukraine simply has not faced so many such injuries. So when the question arose whether we could send such patients for treatment abroad, I offered my help to the team of the Ministry of Health," said Olena Zelenska.
For his part, Murat Sahin stressed the need to return Ukrainian children to the safe school education process from the new school year. UNICEF is planning a national campaign to restore education and rebuild destroyed schools. The First Lady stressed that she was ready to join such a project: "As a mother of a child studying at home, I am also interested in her return to school."
The President's wife said that together with the first ladies of other countries she takes care of organizing summer vacations for Ukrainian children abroad.
"My proposal is to send Ukrainian children to local recreation camps, where they could learn the language of the country that sheltered them, and at the same time communicate more with peers. During the school year, the children were busy with lessons. It is important that they do not feel abandoned in the summer. In addition, many of our mothers have already found jobs, so such camps will be a great help for them. If UNICEF already has experience in this area, perhaps developed programs for the summer holidays, we will be happy to join forces," she said.
https://www.president.gov.ua/news/